Lottery Sim

You don't have to go to your local grocery store to get the thrill of filling in the number bubbles on those paper tickets since now, with Lottery Sim, you can simulate the play of those same Lottery games on your mobile device.
Lottery Sim is a full featured Lottery simulator and knows the rules of play for the eight most popular number-based Lotteries (see below). Choose any number of tickets for one or more of these Lottery games. Swipe between tickets and tap to bubble them in. Each ticket allows you to select the numbers, times and days of play per week, and play type (if available). Any bubbles left blank will be filled randomly at draw time.
Catch a glimpse at what could happen if you play your choice of Lotteries for a week, a month, six months, a year, ten years, and even a lifetime! Watch your virtual piggy bank grow and shrink as you win and lose money throughout the simulation. Comprehensive and informative reports compare results to see which games had better returns. Use these stats to tweak your play strategy and help make the most of your Lottery experience.
Beyond simulations, Lottery Sim also features a lucky numbers generator with a unique approach and a ticket manager to keep track of your real world plays. Bring Lottery Sim with you to your local Lottery outlet to use it as your personal ticket manager as you fill in your real world Lottery tickets.
"You can't win it if you're not in it."
"You can't lose it if you just SIM it."
Features:
Simulate the most popular number-based Lottery games:
Lottery Sim Game
Real World Game Examples*
Choose 6
Lotto
Choose 5
Cash 5, Fantasy 5, Lucky 5
Choose 5+1
Powerball, Mega Millions
Choose 4+1
Mega Money, Lucky 4 Life
Choose 10
Ten-OH!, Pick 10
Pick 3
Cash 3, Daily 3
Pick 4
Cash 4, Daily 4, Play 4
Bundle
Grouper
*Real world games are trademarks of their respective owners.
Additional game types:
Choose 6: Multiplier
Choose 5+1: Multiplier
Pick 3: $.50 or $1.00, Straight, Box, Straight/Box, Combo, 1-Away, Front Pair, Back Pair, Split Pair
Pick 4: $.50 or $1.00, Straight, Box, Straight/Box, Combo, Front Pair, Mid Pair, Back Pair
Customizable settings for each Lottery game:
Number ranges
Prizes
Ticket costs
Multiplier range (if available)
Default ticket entries (especially useful for setting times and days of week you commonly play)
Lucky numbers generator:
As many tickets as possible are generated within a user-selectable amount of seconds, and then the numbers which came up the most are used as your lucky ticket.
You can also specify your personal lucky numbers and a lucky 'seed' word or phrase to influence your own luck.
Generated numbers are saved to ticket records for later playing.
Ticket records:
Manage your real life plays with ticket records..
Keep track of the tickets you've played, the prizes they've won, and review reports to determine which games are earning you the most money.
Crisp graphics:
Full Retina support
Support for the new larger screens (iPhone 5, iPod touch 5th gen)
Media:
Video Demonstration:

iPhone 5 Screenshots: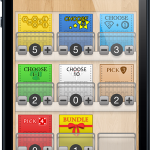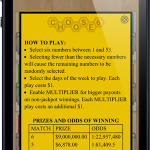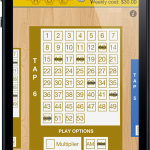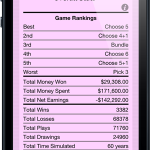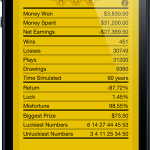 Disclaimer:
Lottery Sim is a simulator used for entertainment purposes only. The money used in Lottery Sim is virtual. The player WILL NOT win or lose real money within Lottery Sim. Lottery Sim WILL NOT increase your chances of winning a Lottery. Lucky numbers generated DO NOT have a better chance of winning compared to numbers selected by any other means. Lottery Sim IS NOT associated with any Lottery organization.
Remember to play responsibly. You must be at least 18 years old to play a real Lottery. Consult your local Lottery outlet for official rules and regulations.