iPhoneStalker
This is a simple Java application which lists the locations stored in your local iPhone backup files.
Features
Find my iPhone tracking.
Auto loading of backup folders on Windows (7 tested, Vista/NT/XP should work), and Mac OSX (10.6.7 tested)
Routing lines between points
Ability to export to a KML file for use in Google earth/maps
Running from binary
Extract the archive
Either double-click on iPhoneStalker.jar or type 'java -jar iPhoneStalker.jar' in a console.
Requirements
Java Runtime Environment (JRE) v1.6 or greater (download)
Works on all platforms. (Note auto-loading of data only works on Windows and MacOSX)
Bugs?
Please write any issues you encounter on http://code.google.com/p/iphonestalker/
Media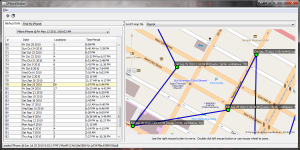 Download
By downloading this software you are agreeing to the license listed below.
Current version:
| Name | Download | MD5 | Date | Views |
| --- | --- | --- | --- | --- |
| iPhoneStalker-06122011 | download | e880c3581e056a22b9ec5b0bdff505a1370d8cc1 | 2011-11-05 | 90 |
Change Log
6/12/2011
Enhancements
Added support for find my iPhone.
Modifications
Fixed label background size.
4/29/2011
Modifications
Removed most JOptionPane messages and added a status bar to the GUI. Clicking this status bar will open the full log.
Points are now color coded to their confidence level. A confidence of 70 (I assume is most confident?) is a green icon, whereas a confidence of 1 should show a yellow icon.
Defects Fixed
Defect 1: Floating off the west coast of Africa
Defect 2: Fails to load data for Verizon iPhones
License
iPhoneStalker is released under the GNU GPL v3 license: http://www.gnu.org/licenses/gpl.html
iPhoneStalker is copyright © 2011 – 2018 Mike Baran